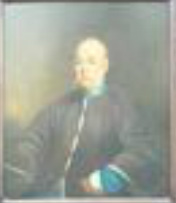 Qing Dynasty Chinese Oil Paintings


The"China Trade"Paintings Digital Images Archive

Director: Robert D. Joseph

ADI has particular experience in researching and studying paintings and other art produced during the historical context of nineteenth century Anglo-Chinese commerce -- commonly known as "China Trade" art.
Over the past decade, ADI has worked to reintroduce awareness of the fine and decorative art of this China Trade period back to its country of origin, and to reestablish a richer and more precise Chinese historical context for these works in the United States and Europe.
ADI also houses
The China Trade Paintings Digital Images Archives
, in cooperation with participating museums and other collections.
ADI itself holds a collection of 40 authenticated works from this period, which included renderings in oil in a European-styled realism of both the brisk maritime commerce and the "opium war" conflicts, portraits of the men who engaged in them, and their environs and landscape, as well as
objets d'art
produced for the lucrative foreign markets.
While "China Trade" is an active subfield of study in the West, it has ironically been the subject of neglect in China due to historical forces that led to the export of virtually all such paintings, and the consequent separation of these works in Europe and the Americas from the cultural and historical context that produced them.
After researching known masterpieces, and identifying possibly misattributed works and other likely errors in their accompanying literature and descriptive text, ADI researchers published results of their research in respected art history journals in mainland China, such as
Chinese Oil Paintings (Zhongguo Youhua)
(2005, 1st ed.) and the Taiwan-based
Bulletin of National Museum of History
(April 2010).
As greater interest is regenerated in China's art history community and its general population in these artifacts of this "lost era", the China Trade subfield will have capacity to serve as a substantial forum for East-West academic and cultural exchange, and to encourage interest among Chinese visitors to the United States and Europe in institutions that house these culturally and artistically significant works.
ADI is a leading team in study of Qing Dynasty oil paintings.
Our department intended comprehensively, for the first time, to preserve and document the oil and watercolor paintings on canvas, paper and similar materials, of the so-called "China Trade" of the eighteenth and nineteenth centuries, that record a period of brisk maritime commerce, warfare, and unprecedented trade between China, Europe, and the United States.
These works, relatively unknown to the public, represent a little known art historical phenomenon: Artists in China, who since ancient times had worked in ink on paper or silk, were exposed through this new arts and commerce to Western styles of oil painting, andthemselves produced for this commerce great numbers of high quality oil and watercolor paintings in a European-style of realism -- in many cases on a par with their Western counterparts and distinctive in their own right.
Current Project:

Establish World Wide Digital Platform of
the China Trade Paintings.
Publications:1
Qing Dynasty Oil Paintings – Unending Afterthoughts. (Taipei, Bulletin of National Museum of History, 2010.04)

2
On a Portrait Copied by Lam Qua. (Tianjin, Zhongguo Youhua. 2005.01)